Barolo and Barbaresco-Diamonds of the Piedmont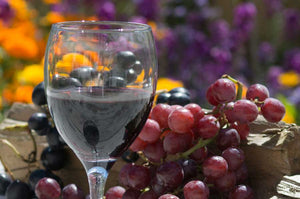 Table of Contents
Introduction
Barolo and Barbaresco are two classic wines from northern Italy. Both are made entirely from the grape variety nebbiolo; both wines are classified as DOCG by the Italian government. They both originate from an area within the Piedmont region known as the Langhe. This area, which literally means 'tongue', is comprised of steep isolated hills, most of them crowned with an ancient village, interspersed with flatter land. The Barbaresco zone lies just to the north and east of the city of Alba; the Barolo zone lies a bit further from Alba, to its southwest. The first written reference to nebbiolo was in 1303 in Canale (Roero), spelled nebiolo; the first written reference in the Langhe was in 1431, and the grape was called nebiolium.
Uniqueness of Barolo and Barbaresco
The grape nebbiolo is grown in very few parts of the world, and most of them are in northwestern Italy. Although found in other parts of this large area, its other wines rarely attain the special attributes and intensity of Barolo and Barbaresco. These attributes include spectacular flavor and aroma nuances, a very long palate persistence, great longevity (the wines are at their best between 10 and 30 years of age, in good vintages), and an affinity for foods with flavors that lean towards earthy. The foods of the Piedmont that are often served with mature Barolo and Barbaresco include many dishes made with white truffles (tuber magnatum) or white truffle oil, Porcini mushrooms (ceps); cheeses like Bra Dura, Fontina, Toma, Ribiole, and truffled cheeses; game (especially game birds); and beef braised in Barolo or Barbaresco.
Of Piedmont wines, Barolo and Barbaresco are the most demanding of consumers due to their ageing/cellaring requirements. But they are also among the world's most rewarding wines. Typically these wines are not ready to drink for 10 years or more (from the vintage). Some of the 1990 decade wines and some of the great vintages of the 80's need extensive airing to show their best sides. Contrary to popular perception, the wines are not always full-bodied and many are not dark-colored. But they are full-flavored and full-structured. Most experts sense that Barbaresco is slightly more "feminine" than Barolo, but there is considerable terroir range in the different subzones of each DOCG, which tends to blur the distinctions between the two.
Nebbiolo
Several nebbiolo mutations are used in Barolo and Barbaresco: Lampia (long, cylindrical bunch); Michet (has the shape of a bread roll, and may be a virus-contaminated form of Lampia) Rose' (not much used today due to low anthocyanin [color] content) Bolla mutation is no longer allowed due to its tendency towards overcropping.
Nebbiolo in general flowers early and ripens late, two attributes that cause difficulties in growing. Early flowering can often result in lost fruit due to frost damage in the Spring; late ripening can lead to problems at harvest due to wet or cold weather, either of which can damage the crop. The region also experiences frequent summer hailstorms- these also damage fruit and make harvesting more exacting for grape pickers. The name nebbiolo has its root in the word nebbia ("mist"), and there is debate about whether this refers to the typical foggy conditions at harvest time, or to the 'bloom' on the skin of the ripe berries.
Terroir
The terroir of the Langhe can be thought to have begun formation when the region lay under a vast inland sea, created during the continental collision of the African and Eurasian plates. The soils, primarily sediments, resulted mostly from erosion of the surrounding higher lands (Alps, etc); the land was later thrust up due to the continued impact of the two continental plates. Erosion of the softer rocks led to the formation of the isolated hills that we see today. The resulting today vary from marly to decomposing porous sandstone. They tend to be well-drained, particularly on the hillsides, where most of the best sites are found. If you drive through the area at night, the lights of the villages accentuate the nature of the topography: illuminated hilltops surrounded by nearly-dark hillsides and valleys.
Wine Label Legal Terms
As was mentioned earlier, both Barolo and Barbaresco are legally-controlled designations for wines that are classified as DOCG (Denominazione de Origine Controllata) by the Italian government. It's important to look for this designation on bottles to help assure their authenticity. This category, the top one for Italian wines, carries an extra level of control over quality and typicity that is monitored and enforced by the Government. Of course, all the grapes used to make a wine of named place-of-origin must come from within the boundaries of that place. But other rules apply, some relating to the crop yields, etc. Still others relate to the winemaking and ageing of the wines. The wines of Barolo must be a minimum of 3 years old before sale, and those of Barbaresco a minimum of 2 years. Some other terms that might be of interest that are not immediately obvious include vigna (approximately equivalent to the French term "Cru"), which must always be followed by a named vineyard; and riserva "reserved" or "held back" (minimum of 4 years of age for Barbaresco and 5 years for Barolo).
History of the Wines
The history of these wines is really, as in the case of many wines, not very well documented. But we know that often the primary wine tradition of a region changes with time. One of the main civilizations involved in the diffusion of wine culture into western Europe was the Romans. They mostly preferred to drink sweeter style wines, often diluted with water (sometimes seawater!), so it's realistic to look upon wine preferences as gradually evolving over time. In the Langhe, the home of Barolo and Barbaresco, it is highly likely that a sweet wine tradition existed into the 18th century. In the early 1800's, several noblemen in the Piedmont were involved in changing the tradition, primarily via influences from France. Piedmont and other parts of northwestern Italy had been part of the French kingdom of Savoy for some time, so there was considerable exchange between France and the Piedmont. Marchese and Marchesa Falletti of Turin brought a French wine technologist, Louis Oudart, to their estates in Serralunga and La Morra to improve viticultural practices. Slightly later, Camillo Benso, the Conte di Grinzane, hired Oudart to develop a style of wine that was more like the contemporary Bordeaux red wines.
Barbaresco was essentially created as a place-of-origin wine name in the latter part of the 19th century, when the producers of Barolo refused to extend their name to include the grapes from what is now the Barbaresco zone. Previously, the grapes grown in the Barbaresco zone had mostly been sold to Barolo producers to include in their wines.
In the second half of the 19th century, the son of the first king of unified Italy (Emanuele) planted vines around Serralunga d'Alba. The interest of these high-profile individuals undoubtedly created a new-found confidence in the core value of the region's wines. By 1873 we have documentation that wine producers in Barolo were conscious of, and alarmed about, the vast extent of fraudulent imitations of their wines. So the wines continued to improve until the advent of phylloxera, the devastating root louse. This happened in the early 20th century in the Piedmont, and it was followed by a succession of other difficulties: 2 world wars, the great depression, and a fascist government not much interested in fine wine. When post-war recovery began in the late 1940's, Barolo and Barbaresco wines began to resume their upward quality journey. They both became DOC wines in 1966, and were granted DOCG status in 1980.
The Wine Villages
Like Bordeaux, Burgundy, etc, there are individual small towns in Barolo and Barbaresco that leave their stamp upon their wines. All Barolo and all Barbaresco are made from nebbiolo, but they are not all the same. It may be important to you to find out which village's wines you consistently are the most impressed with, so that you can increase your liklihood of success with different wines. In Barolo, the famous wine towns are Barolo, Castiglione Falletto, Diano d'Alba, Grinzane Cavour, La Morra, Monforte d'Alba, Novello, Roddi, and Serralunga d'Alba. The wines of La Morra are on the delicate side and very supple; those of Serralunga d'Alba much fuller and more concentrated but less approachable in their youth. In Barbaresco, the famous towns are Barbaresco, Neive, and Treiso. The soils are more like those of La Morra than those of Serralunga, but that has not prevented some of the top producers from making wines that rival those of Barolo in power and longevity. This points up another important factor in choosing among these wonderful wines, the producer.
Top Barolo and Barbaresco Producers
Today there are a large number of very good producers in these zones, but most experts would cite Bruno Giacosa and Angelo Gaja as the top sources of great wines. It's an interesting pair, since their wines are really quite different in style. Angelo Gaja can be considered a leading proponent of 'modern' Langhe wines, while Giacosa is very definitely one of the region's most-traditional producers. They are also somewhat unique in that each produces wines from both zones.
Bruno Giacosa
The business has been in the family since 1871. Giacosa was born in Nieve in 1929 and took over the family business at the age of 20. Although he is still involved in the winemaking, his present winemaker is Giorgio Lavagna. If there is a particularly bad vintage, no Barolo or Barbaresco wine is bottled. The cellars are in Nieve. Yields are kept to no more than 2.5 tons per acre.
Today the wines that have received the Giacosa touch have two different labels. These include Azienda Agricola Falletto winery (wines made from vineyards owned by the family, totalling approximately 37 acres), and Casa Vinicola Bruno Giacosa (wines made from purchased grapes). The wines from the latter include Barbarescos Santo Stefano ("normale", and rarely riserva) and Gallina, and Barolo Villero (last vintage 1996).
The most sought-after Giacosa wines come from the A. A. Falletto winery and originate from the following zone designations and vineyards: Barbarescos Asili and Rabaja (normale and both sometimes in riserva; the vineyards share a common border); Barolos Falletto and Le Rocche del Falletto (the latter sometimes in riserva); and Barolo Vigna Croera (first vintage 2004).
Angelo Gaja
Like Giacosa, the Gaja family has been in the Langhe wine business for many generations. The family immigrated to Italy from Spain in the 1600's; the firm was started in 1859 by Angelo's great-grandfather, Giovanni. Angelo Gaja was born in 1940 in Alba. He graduated at the age of 20 from the Enological Institute of Alba with a degree in enology and went on to take a Master's Degree in economics from the University of Torino; he also studied in France. He began experimenting with the use of barriques (small oak barrels used to age wine) in 1969. He was also responsible for the pioneering of single-vineyard wines in Barbaresco, the first being Barbaresco Sori San Lorenzo in 1967. The first vintage of the vigna Sori Tildin was 1970. In 1976, the first barrique-aged Barbarescos were released to the public for sale. Barbaresco vigna Costa Russi had its first vintage in 1978 (released in 1981). The campaign for modernization continued with installation of stainless steel fermentation tanks in 1981. In the 1996 vintage, the Barbarescos and most Barolos (except Dagromis) were 'declassified' to Langhe Rosso DOC, due to the addition of a small (about 5%) addition of Barbera. This was quite a controversial change at the time, but it didn't reduce the critical acclaim for Gaja's wines nor their prices. Gaja makes 3 vigna ("cru") wines from Barbaresco, all labeled as Langhe Rosso: Costa Russi, Sori Tildin, and Sori San Lorenzo; there is also a 'normale' labeled DOCG Barbaresco, which uses 100% nebbiolo fruit from 14 different vineyards. In addition to the perviously mentioned Dagromis Barolo, there are two other cru Barolo-zone wines called Sperss and Conteisa, both DOC Langhe Rosso. Gaja also owns vineyards in southern and in coastal Tuscany (Maremma).
A Tale of Two Conternos
Aldo Conterno
Aldo Conterno is a Barolo producer located in Monforte d'Alba. His family has been involved in wine production since the 19th century. After a 5-year 'sabbatical' in America (California), he returned to Italy; his father turned the business over to his sons in 1961. In about 1969 he decided to split with his brother, the late Giovanni Conterno, and began growing his own grapes in the commune of Monforte d'Alba, with a property he purchased known as the Favot farm. The wines that he makes, which include Barolo and other nebbiolo-based wines as well as some other varietals, are all produced from 60 acres of vineyards that are owned by his company. His Barolo vineyards are in the Monforte sub-district known as Bussia. Today, he is assisted by his three sons, Franco, Stefano, and Giacomo. The Barolos are aged only in large used Slavonian-oak barrels, which are scraped free of the previous year's wine each vintage- this accounts for the new oak taste in some of the wines when in their youth. Three single-vineyard Barolos are produced, Cicala, Colonello, Romirasco (the last completely owned by Conterno). Additionally, in special years when all three vineyards produce excellent fruit, there is a Barolo riserva made called 'Gran Bussia', which is a blend of fruit from all three vineyards. The first vintage for this wine was 1971. This is the flagship Barolo of Aldo Conterno, and the wine from each vineyard is aged separately for several years in wood, then blended and aged additional years in stainless steel. The wine is then bottle-aged and released only when at least 7 years old. The critical evaluation of the Gran Bussias has been uniformly superlative. The Gran Bussia Barolo riservas are typically described as leaning towards elegance versus power. A 'normale' Barolo is also made, made from a blend of vineyards and from vines of at least 20 years age. The other Barolos are made from vines of much greater age.
Giacomo Conterno
The wines of Giacomo Conterno can almost be considered to DEFINE traditional Barolo. The business was started in 1908 by Giovanni Conterno, who had opened a tavern that sold Barolo. He made the wine with purchased grapes, a tradition that continued until 1974. His son Giacomo served in World War I, and upon his return wanted to make a wine capable of ageing; it's thought that the first Conterno wine labeled 'Monfortino riserva' was sold in 1920. This was to become the jewel of the Giacomo Conterno wines, only made in the best years. Giovanni died in 1934, and Giacomo took over the family business (tavern and winemaking). His 2 sons, Giovanni and Aldo helped out. They took over the business in 1961, but the estate was split up in 1969 as Aldo 'went his own way'. Giovanni continued making traditional wines with long maceration (up to 5 weeks!) and extraordinarily long ageing in old wooden 'botti' (large capacity oak barrels). The 'normale' Barolo is aged 4 years in barrel before bottling. The Monfortino riserva is aged typically 7-10 years in wood; the 1970 was not bottled until 1985! In 1974 Giovanni Conterno (the second one) bought a 35-acre vineyard called Cascina Francia. It is planted with nebbiolo plus some barbera. In years when Monfortino riserva is made, it is produced from the best nebbiolo fruit from Cascina Francia. The normale Barolo has been labeled as Cascina Francia since the 1980 vintage. Giovanni Conterno died in 2003, and today his son Roberto makes the wine. One change that Roberto has made is that the Monfortino riserva is only aged for 7 years in wood before bottling. In bad vintages, all the nebbiolo wine is declassified into Nebbiolo Langhe DOC.
Recommended Resources
DVD Visions of Italy (Amazon.com)
Books
Wine - General (first four organized by region) Vino Italiano by Bastianich & Lynch (2002) The New Italy by Cernilli & Sabellico (2000) Wines of Italy by Burton Anderson (Pocket book) (2000) The Wines of Italy- An Endless Adventure in Taste (2006) by the Italian Trade Commission (Italianmade.com)
Wines of Italy- Il Gusto Italiano del Vino by Patricia Guy (2003) (Organized by grape varietal) Italian Wines Gambero Rosso Editore (new edition annually) (Provides reviews of best wines from top producers by town)
Wine - Specialty A Wine Atlas of the Langhe Slow Food Editore (2002) "The Great Barolo and Barbaresco Vineyards"
Food, Cuisine, & Wine Italian Regional Cooking by Ada Boni (1969)
Why Italians Love to Talk about Food by Elena Kostioukovitch (cuisine and history, no recipes)
La Cucina- The Regional Cooking of Italy by The Italian Academy of Cuisine (English translation 2009)
Culinaria Italy by Culinaria Knemann (2004)
History Italy - A Short History by Harry Hearder (1990)
Disclaimer
Cellaraiders assumes no liability or responsibility for any errors or omissions in our wine articles.
Permission to Republish This Content
Cellaraiders supports the exchange of information through the use of established procedures designed to expedite the use of material for professional purposes.
Note the following:
1) Consent is given for the copying of articles for use on the web only. This consent is given on the condition that the copier link directly to the Cellaraiders.com site with a live (hot) link utilizing the code listed below. This consent does not extend to other kinds of copyright, such as for general distribution, resale, advertising, and promotional purposes, or for the creation of new collective works.
<p>This information was produced by <a href="http://www.Cellaraiders.com" target="_blank">Cellaraiders.com</a>. <a href="http://www.Cellaraiders.com.com" target="_blank">Cellaraiders.com</a> assumes no liability or responsibility for any errors or omissions in such information. </p> <p><strong>About Cellaraiders.com </strong><br /> <a href="http://www.Cellaraiders.com.com" target="_blank">Cellaraiders.com</a> buys and sells wine collections of properly cellared wine- specfically but not limited to French wine, California wine and Italian wine. We also handle insurance appraisals. For more information on Cellaraiders.com, please visit <a href="http://www.Cellaraiders.com.com" target="_blank">www.Cellaraiders.com.com</a>.</p>
Linking to the Web Site
We have no objection to links made from other sites to this site provided that you comply with the following requirements:
You may not frame or alter the appearance of the Cellaraiders.com site.
You may not state or imply that Cellaraiders.com endorses, sponsors, or otherwise approves your site or any other site.
You may not use any Cellaraiders.com trademarks or logos without prior written consent from Cellaraiders.com. The only permitted form of link is a text link. You may use the following code:
<p><a href="http://www.cellaraiders.com" target="_blank">Cellaraiders</a><br /> Cellaraiders buys and sells wine collections of properly cellared wine- specifically but not limited to French wine, California wine and Italian wine. We also handle insurance appraisals. For more information on Cellaraiders, please visit <a href="http://www.cellaraiders.com" target="_blank">www.cellaraiders.com</a>.</p>