What Is Bordeaux Wine?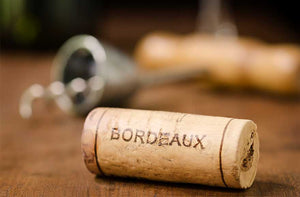 French Bordeaux wine is a specific blend from the region of Bordeaux, France. It comes in several different variations, but the two most commonly used grapes are Merlot and Cabernet Sauvignon.
The wine crafted in Bordeaux is perhaps some of the most well-known in the world. Not only does the location of the region impart a specific terroir (flavors attributed to the climate, soil, and terrain of the area) into the wines, but it also led to the success of its distribution. This is because Bordeaux was, and still is, a major shipping port in the southwest of France.
It's easiest to understand the complexities of Bordeaux (especially red Bordeaux) by dividing the wines into two distinct categories based on location. Specifically, these categories refer to the two landmasses on either side of the Gironde Estuary.
When discussing Bordeaux wines (and any French wine, for that matter), it helps to understand the meaning of the appellation d'origine contrôlée, or AOC. This designation is part of a greater system that works to classify French wines. Specifically, AOC wines must meet strict regulations and have a distinct character that is typically only achieved through growth and production in a specific area. In the Bordeaux region, there are many different AOCs, which we'll discuss in greater detail below.
The Left Bank
The Left Bank of Bordeaux is known for creating a wine blend with stronger flavors of Cabernet Sauvignon over Merlot. Most left Bank Bordeaux wines are known to be a bit more powerful and tannic than those on the Right Bank. They typically offer notes of dark fruit, cassis, and coffee, among others. Due to the higher presence of tannins, Left Bank Bordeaux wines benefit greatly from aging.
There are many AOCs within the Left Bank, but none are more famous than Medoc, which contains over five hundred different vineyards.
The Right Bank
The Right Bank of Bordeaux is known for favoring Merlot over Cabernet Sauvignon in its blend. These wines are slightly less tannic than their Left Bank counterparts and make a great introduction to Bordeaux wines. A few popular Right Bank AOCs are Saint-Émilion and Pomerol.
Other Bordeaux Wine Varieties
Although Cabernet Sauvignon and Merlot are the two main grapes used in the blend, there are a few other permissible varietals that are involved in making Bordeaux wines. These include Cabernet Franc, Petit Verdot, Malbec, and Carménère. And while the Right and Left Bank make up a sizeable portion of Bordeaux wines, the Entre-Deux-Mers, which lays right in between the two banks, is also a major contributor. This region is known for its white Bordeaux varieties, including Sauvignon Blanc, Semillon, Muscadelle, as well as sweeter white wines.
How to Serve Bordeaux Wine
Red Bordeaux wine should be served just a little below room temperature, which is typically around 65 degrees Fahrenheit. It will also benefit from decanting for at least 30 minutes, which will help "open up" the tannins and phenolic compounds in the wine.
If you're drinking a white Bordeaux wine, it's best to serve it at about 47 degrees Fahrenheit. To achieve this temperature, remove it from your refrigerator and let it sit for about 30 minutes before opening.
Ready to Enjoy the Flavors of Bordeaux? Cellaraiders Can Help
Cellaraiders offers a wide selection of Bordeaux wines, ranging in price and style, that will make the perfect addition to your collection. For more information about our offerings or how to purchase, contact us today!