Review of Three of the Best 2006 Wines: Petrus, Cheval Blanc, and Chateau Mouton Rothschild Bordeaux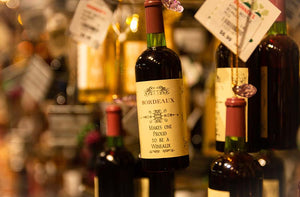 2006 was a monumental year in human history and there were plenty of reasons to celebrate. Google purchased YouTube for an astounding $1.6 billion, and in a single moment, two of the largest and fastest growing websites became one. The nation's second wealthiest man, Warren Buffett, announced he was giving 85 percent of his $44 billion fortune to five philanthropic organizations. Fidel Castro finally gave up the reins of Cuba, albeit only to his brother, and movies like X-Men and The Devil Wears Prada were hauling in viewers to the theaters.
The year 2006 was also good for wine enthusiasts. Three phenomenal wines made that year are reaching maturity within the next few months, including the 2006 Petrus, Cheval Blanc, and Mouton Rothschild Bordeaux. Let's hear what three wine critics – Robert Parker's Wine Advocate, Wine Spectator, and Stephen Tanzer's International Wine Cellar – had to say about each of these vintages.
2006 Cheval Blanc
Since 2012, the 2006 Cheval Blanc has begun to reach peak maturity, and it will continue to do so until about 2030. Already, wine critics have weighed in.
Robert Parker's Wine Advocate spoke very highly of the 2006 Cheval Blanc, calling it "brilliant" and saying that this wine was a "blend of equal parts Cabernet Franc and Merlot" that "boasts a dense ruby/purple color as well as a sweet perfume of menthol, charcoal, boysenberries, black currants, and hints of cocoa and caramel. Lush, textured, and opulent with superb purity, medium to full body, savory flavors, and sweet, sexy tannins, this stunning Cheval Blanc may be even better than the 2005."
Wine Spectator estimates the 2006 Cheval Blanc will reach maturity in 2015 and says the wine displays "lots of milk chocolate, cedar, berry and cappuccino aromas."
Stephen Tanzer's International Wine Cellar says 2006 Chaval Blanc has "surprising chewy richness and sweetness for a brand-new Cheval. Finishes with broad, toothdusting tannins that mount slowly and saturate the palate."
2006 Chateau Petrus
International Wine Cellar was a bit more skeptical about the 2006 Chateau Petrus, saying "This was much deeper in pitch than the Trotanoy I tasted next to it, and missing that wine's ineffable mineral high notes, inner-mouth perfume and impression of harmoniousness. Is this simply too young to assess today? Time will tell."
Wine Enthusiast was much more optimistic, saying that "Petrus again has produced a magnificent wine in 2006, even if it doesn't hit quite the same heights" as the 2005 Petrus.
Wine Spectator says the 2006 Chateau Petrus 2006 is now maturing in 2014 and calls the wine "very silky and classy."
2006 Chateau Mouton Rothschild Bordeaux
Wine Spectator gushed about the 2006 Chateau Mouton Rothschild Bordeaux, saying the wine contained "complex aromas of crushed berries, cedar, mahogany and sweet tobacco follow through to a full body, with velvety tannins and a long finish. There's also lots of coffee."
Wine Enthusiast was also pleased with the 2006 Chateau Mouton Rothschild Bordeaux, saying, "At the time it was shown as a barrel sample in early 2007, this was the best wine of 2006. That accolade remains."
International Wine Cellar had the most glowing review, saying, "I loved this wine the spring after the harvest, and it's even more impressive today. This should go on for decades, but today it's hard to imagine this wine going through an extended sullen stage. By the way, I'm a great fan of Lucien Freud's work, but his label for this wine does not do justice to the juice inside the bottle."
Celebrate a moment from 2006 – purchase a 2006 bottle of wine from our collection today.